During the outbreak of COVID-19, TikTok has now surpassed 2 billion downloads on mobile devices after seeing a surge in popularity. Because stuck at home, many people use this social media app to share their short videos from dancing, singing, lip-syncing to comedy. However, TikTok has been in hot waters with the US government behind the news that this video sharing app is collecting phone data. For those reasons, we've put together the 10 best free video editor apps like TikTok.
Instagram Reels
Price: Free
Recently, Facebook launched a new Instagram, which builds an app like TikTok right into Instagram. Similar to TikTok, Reels lets people create short-form videos set to music. The newest opportunity for Instagram allows people to record videos up to 15 seconds long and add popular music, as well as an array of filters and effects, over top of them.
Reels' biggest difference from TikTok is its tie-ins to the overarching Instagram ecosystem. Users can send Reels to their friends directly on Instagram. Additionally, Instagrammers won't be able to "duet" with each other. Instagram also won't let users upload songs directly into the app's system.
While TikTok is starting to pay some creators, Instagram doesn't directly pay people for content. They already allows for influencers and creators to earn revenue through sponsored posts by Instagram's E-commerce store.
Clash
Price: Free
Another app joining the competition to replace TikTok is Clash. Clash is a short-form video-sharing platform that lets users record and share videos for 21 seconds. Each "Clashers" can discover new videos and creators through the Clash's main tabs.
So, what makes Clash different from other apps like TikTok? They create an environment for previous Vine creators who are unsatisfied with TikTok. Compared to TikTok's audience, Clash is also rolling out an equity program where creators will gain actual ownership. 
Clash also offers a feature called "Drops. With this tool, users can pay, or "drop" monetary rewards to influencers they know and love. In this way, creators focus more on creating unique content instead of relying only on sponsorships.
Likee – Let You Shine
Price: Free
Likee is a video editing app like TikTok. The dance app makes users go crazy about it because of unique filters, stickers, and special effects. There are no limits to creative expression.
What makes Likee really stand out from other apps like TikTok is its multitude of epic video effects. It is not just simple color-changing filters. Cutting-edge tools and Artificial Intelligence are Likee's key points of differentiation. The dance app goes beyond with its editing features like changing the hair color, utilizing 4D special effects, an extensive music library, and over 1,000 video effects including beauty and video filters and stickers.
Dubmash – Videos for everyone
Price: Free with in-app purchases
Dubsmash is probably one of the oldest music video apps. This TikTok alternative has over one hundred million installs speaks volumes about its popularity today.
With this TikTok-like-app, can use thousands of different sounds in your videos, including movie and TV quotes. The video app also lets you add stickers and text overlays to videos. Besides showing your music videos on your Dubsmash profile, the app allows you to share your videos on other social media networks.
Price: Free
Triller is a music video app that's blown up into a social networking platform. Many celebrities like Kevin Hart and Selena Gomez use this app to record and publish their social media videos. Triller's video editing tools enable you to trim or cut videos, apply more than 50 filters, or even draw over the videos to express your creativity.
How does Triller differ from TikTok? The two social apps are created with different reasons. Triller was originally designed to be a music video app. Meanwhile, TikTok first was created as a similar app as Musical.ly, then eventually turned into a platform for short-form entertainment. Besides, Triller automatically edits user videos using AI-powered software. Whereas, TikTok users edit their own videos and have more options in doing so.
Snapchat
Price: Free with in-app purchases
Zoomerang – Short Videos
Price: Free with in-app purchases
The next app in our list is Zoomerang that's perfect for TikTok beginners. Especially, this video editor app includes in-app tutorials. That means you can watch popular TikTok videos and learn how to create those videos for yourself.
Beyond the tutorials features, Zoomerang has a large number of editing effects such as visual effects, filters, music, and more. You can also connect your TikTok account, Instagram, and Snapchat to the app simply for easy sharing.
MuStar Lip Sync Musical Battle
Price: Free with In-app purchases
For creating a lip-sync musical battle, you can't go wrong with MuStar. As for the video effects, they are pretty similar. MuStar has an larger collection of songs than TikTok. The second difference is that MuStar has a pretty intuitive UI that makes for exploring videos a bit smooth-sailing. Therefore, it makes easier to find videos and use its features.
Clapper: Local Video Community
Price: Free
In-app purchases: No
Clapper is an unbiased free speech short video social platform dedicated to giving everyone a voice. Unlike existing social media and video platforms, Clapper aims to protect and promote free and civilized speech. You can call Clapper a more political TikTok alternative.
How different is Clapper compared to TikTok like apps? First, they control the content distribution. Consequently, all content and videos are audited. Second, the advertisers have control over the content which allows them to protect from potential controversy.
Besides, Clapper has a plan to enable paid subscription features soon. Then the content creators will be paid by their subscribers. The company aims to become a subscription-based platform rather than an ad-based platform like YouTube and Facebook.
Mitron: India's Original Short Video App
Prices: Free
In-app purchases: No
Since TikTok has been banned in India, there are many apps like TikTok which have started developing. One of them is the Mitron. At first glance, the Mitron app is similar to TikTok. However, this app is sensitive to the local community guidelines and compliant with local laws. According to its Founder Anish Khandelwal, Mitron's mission is to create a platform where people can come and entertain themselves with small videos.
Zee5
As it comes in the midst of TikTok ban, Zee5's HiPi has been launched as a new short-video platform that will join the growing list of TikTok like apps. HiPi  allows users to create videos of up to 90 seconds — along with music tracks, filters, and visual effects.
Unlike other apps similar to TikTok, what Zee5 have invested in is that every single content piece which is there on the platform is moderated before it goes forward.
Notably, Zee5 HiPi will only allow creators of age 18 or above on its platform. A creator has to gain certification by the HiPi team. Once it has done, creators will know the insights about the content, number of likes and followers as well as the advertising revenue share earned through videos.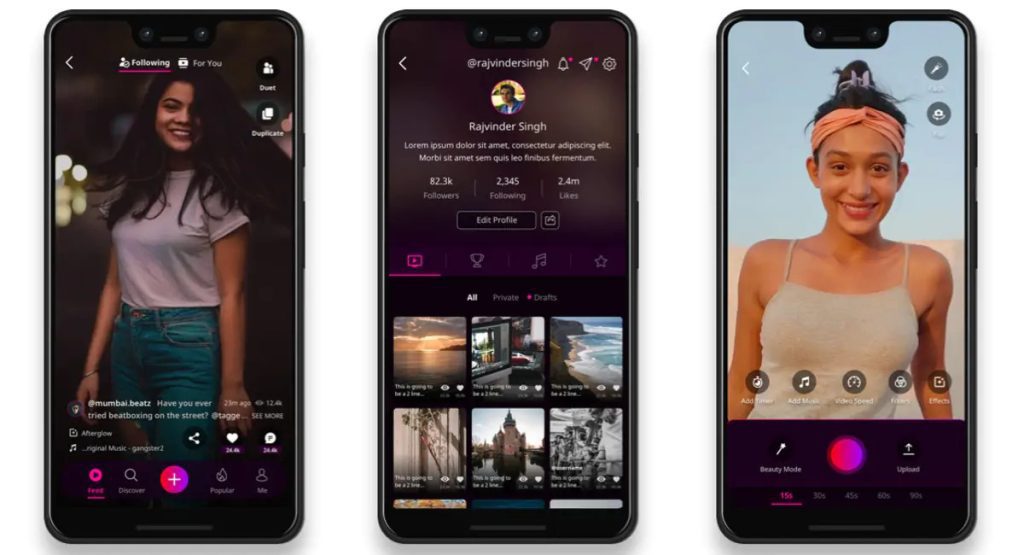 Apps like TikTok: Conclusion
Nevertheless, have you ever asked why TikTok has grown over the past couple of years? Because it has a large engaged community. During an isolating time, users use TikTok to express themselves and connect with others.
Like many social media apps, TikTok monitors the content on its network using a combination of artificial intelligence and human moderators. However, it has been banned by a couple of governments, most notably India.
That one of the reasons why many businesses are turning towards building social media apps like TikTok. So if you're want to build a short-form video content app like TikTok, contact us directly via:
Related articles:
Do you want to build your own website/mobile app?
Our team of experienced professionals will do everything possible to provide you with a quality result that will exceed your expectations.