It's not surprising that many people are discussing about their mental health. In this modern world, stress, anxiety and depression affect everyone differently. Especially, during the recent COVID-19 outbreak, many of us are confined to our homes, fearful for our health and loved ones. Thankfully, mental health apps can help us keep track of wellbeing and calm the mind. Whether you are dealing with depression, loneliness, or need someone to talk, check out our picks for the best mental health apps of 2021.
1. Wysa: stress, depression & anxiety therapy chatbot
Wysa is a mental health AI app with digital chatbot where people can talk about things bothering them for free while also offering an array of tools to calm someone when they're stressed. The chubby penguin can talk to you about your feelings, or guide you through mindfulness meditation. For example, tell to Wysa how you feel today and do these different exercises. At the end of the day, you can see a report of your emotions and habits.
App Store rating: 4.7 stars
Google Play rating: 4.7 stars
Price: Free and offers in-app purchase starting from $1.49 to $199.99 per item.
2. Woebot – Your Self-Care Expert
Woebot is another artificially intelligent chatbot app for mental health. The AI bot gives users the chance to check in every day, which can be helpful for working through everything from daily stress to anxiety and depression. It also offers powerful personalized support and helps people to get to know their own emotions better and challenge particular thoughts that may be unsupportive of their well-being.
App Store rating: 4.8 stars
Google Play rating: 4.8 stars
Price: Free
3. Shine: Calm Anxiety & Stress
The Shine app starts your day with an empowering message and offers access to a short podcast that deals with various wellness themes. At night, you can listen to Nightcaps, which are boring retellings of movies from the 90's to help you sleep. Furthermore, the healthcare app has a library of more than 500 meditation covering various topics such as self-care, productivity, confidence, acceptance, and much more.
App Store rating: 4.7 stars
Google Play rating: 4.6 stars
Price: Free with in-app purchase ($14.99 monthly or $49.99 annual subscription)
4. Calm: Meditate, Sleep, Relax
Calm has become one of the world's most popular apps for mental health including sleep, meditation and relaxation. This health tool offers breathing exercises, daily reminders and "mood check-ins," sleep stories, and meditation techniques. It is also recommended by top psychologists, therapists, and mental health experts for beginners as well as for intermediate and pro users.
App Store rating: 4.8 stars
Google Play rating: 4.2 stars
Price: 7-day free trial then $69.99 billed annually.
5. Daylio – Diary, Journal, Mood Tracker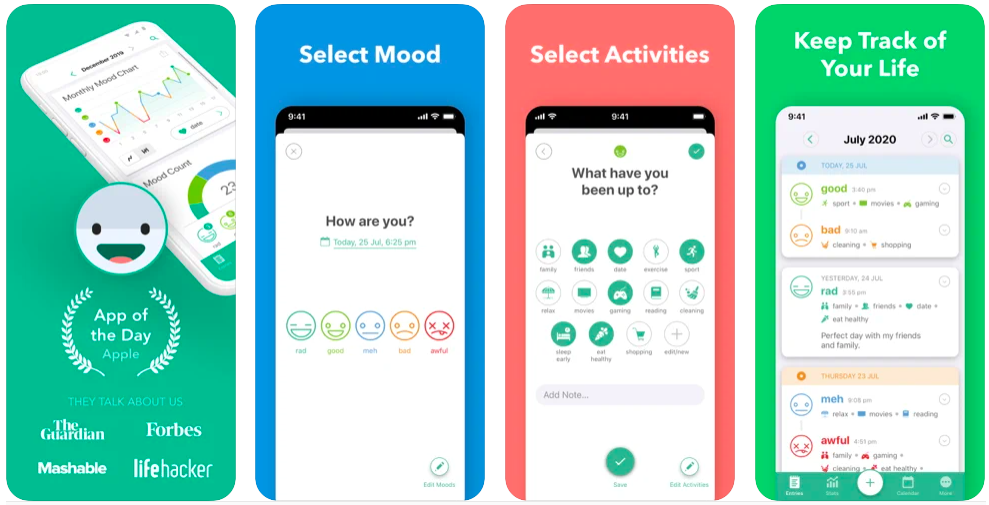 Daylio is an app for those who love looks as well as performance. This mental health diary app is incredibly easy to use. In short, you can choose a mood and fill in the details almost no time. Adding to the choice of moods and activities is easy, there is a large library of icons to pick from and personalize. Daylio also shows you a chart with the history of your mood and the activities you have done. In this way, it's perfect for people who might otherwise struggle to keep a system for mood tracking going.
App Store review: 4.8 stars
Google Play review: 4.6 stars
Price: Free to download or premium version for $4.99
6. Happify: for Stress & Worry
If you're looking for a fun app that will keep you engaged while also boosting your mood, Happify might be your best choice. Happify is all about playing games. But every game is a science-based activity meant to reduce stress, build resilience, and overcome negative thoughts.
App Store review: 4.5 stars
Google Play review: 3.9 stars
Prices: Free or purchase plan start at $14.99 a month
7. Headspace: Meditation & Sleep
If you're struggling with stress and looking to integrate meditation into your routine to help relieve anxiety, Headspace is a great place to start. Whether you need help winding down before bed, need a quick breather during the workday to help focus, or are dealing with a serious moment of panic, anxiety, and stress , the app has hundreds of guided meditations to help your mind get where it needs to be. Even if you only have two or three minutes to spare, there's a "mini meditation" to put your mind at ease.
App Store review: 4.8 stars
Google Play review: 4.8 stars
Prices: Free with £9.99 for monthly subscription or £49.99 for annual subscription
8. Cove: music for mental health
Cove is a personal musical journal to help you with your emotional and mental health. This music app can be used anytime. But it may be most useful when you find it difficult to express yourself through other means, such as talking or writing. Especially, you can can make music by yourself, or share what you make with others.
App Store review: 4.7 stars
Prices: Free
9. BoosterBuddy
BoosterBuddy is one of the best mental health apps for teens and young adults. This app improves their healthcare by managing their personal wellness journey and earning achievement through a series of daily quests. Additional features of the app include assistance in tracking appointments and medication, self-care routines for specific symptoms (anxiety, depression, high mood, lack of motivation, etc), and a record of users' previous mood entries.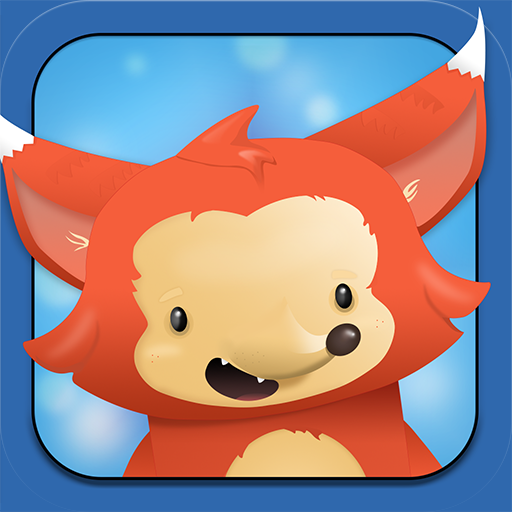 App Store rating: 4.6 stars
Google Play rating: 4.3 stars
Price: Free
10. What's Up? – A Mental Health App
What's Up uses CBT (Cognitive Behavioural Therapy) and ACT (Acceptance Commitment Therapy) methods to help users cope with mental-health issues like anxiety, depression, and anger. Among other things, this healthcare online app offers a diary feature with a scale for rating your emotions. Not only helping you put problems in perspective, breathing techniques, it also keeps you feeling grounded during stressful moments. In addition, it also serves up answer forums, positive quotes, and silly-sweet metaphors to simply help you focus on feeling good.
App Store rating: 4.7 stars
Google Play rating: 4.3 stars
Price: Free with in-app purchase
How to choose the right mental health apps?
The telemedicine apps for healthcare have become a profitable business, with worldwide expenditure estimated to be over US $92 billion. As a result, there are now more than 10,000 publicly available mental health apps. Most of these apps lack published evidence for their effectiveness.
Currently, the list of mental health apps are made by using reviews and ratings available in app stores. However, these can produce unreliable results.
Here are 3 tips for choosing the right app for mental health:
1. Look for mentions of CBT or psychologists endorsing the app as using evidence-based practices, as these have the greatest chance at being effective.
2. Be careful with privacy and data security. It's important for you to know what happens with the data you enter into any app.
3. Make sure the app address more than one symptom and issue. Because there is a lot of research showing mental health issues often co-exist, and share many common factors that can be dealt with concurrently.
4. Choose the app that recommend some activities to help you cope, boost your resilience, and improve your mood.
5. Ask a mental health expert for their app recommendations.
The takeaway
Positivity and lightheartedness are important. But during a period of global pandemic, your anxiety feels like waiting for to spin out of control. Quarantines and isolation specifically can be very stressful. So it's the time to practice calming measures and get your mental health back on track.
You can save the 10 best mental health apps to your bookmark, commit to visiting everyday, and share them with your friends. Remember listen to your mind and your body.
With 70% global population are having smartphones, mental health apps potentially offer a partial solution to limitations in service availability and acceptability. If you have any great ideas about healthtech, don't hesitate to contact us via:
Related articles:
Do you want to build your own website/mobile app?
Our team of experienced professionals will do everything possible to provide you with a quality result that will exceed your expectations.