New year, new UI design trends. As a designer, you need to be aware of the existing and upcoming UI design trends, constantly learn, improve and expand your design toolkit. Thus, we are ready to show you some latest UI UX design trends that will dominate the year of 2020!
The UI design brings the first expression of a mobile app. In addition, User Interface also connects users, makes User Experience more smooth, thus increases the entire ROI. Instead of thinking about a project solely in terms of UX, UI design trends will integrate storytelling into UI design, resulting in eye-catching animations, dark themes – along with gradients, rule-breaking typography, a touch of minimalism,… – which continue to be the trending UI design.
Based on research, experience, and observations, I've selected quite carefully 8 UI/UX design trends that you should watch in 2020. Let's get started!
1. Animated Illustrations
Illustrations have been a thing in the digital product design scene for a long time,  as their evolution in the last years is nothing else but very impressive. These animated illustrations add natural feel and "human touch" to overall UX. Animations are also one of the most effective ways to tell the story about your brand, product or services.
Another benefit of adding illustration animation is capturing user's attention and making them engage with your product. Moreover, illustrations design are also very strong attention grabbers. At the top of that, by applying moving art to these illustrations, we might bring our products to life and make them stand out — adding extra details and personality.
2. Microinteractions
Micro-interactions in user experience exist pretty much in every single app or website. It's not worth to say that micro-interactions is the secret of every great app design. In fact, you've seen interactions when you're opening your favorite app. For instance, Facebook has tons of different micro-interactions designing with details and the "Like" button is the perfect example. Sometimes, you may not aware of their existence. Because they are so obvious, natural and "blended" into user interfaces. But if you remove them from your product, you will notice very quickly that something is missing.
Generally, in UI/UX design, even really small and subtle changes will make a huge impact. Therefore, micro-interactions seriously impact UX design trends in 2020. All details and attention to them may improve User Experience of your mobile app and bring it to the next level.
3. 3D Graphic In Mobile UI
Every year, every new device brings new opportunities for creating brand new and innovative graphic design. 2020 wouldn't be an exception for sure. Mobile development is growing rapidly.  As a designer, it's fair to say a new mobile app will open the door for 3D graphics in mobile interfaces.
It is a fact that using 3D graphic art in UI requires specific skills and lots of work. But the results are very rewarding. 3D graphic renders could be viewed in a 360-degree presentation which will enhance the overall UX of the product. Sounds interesting? 3D graphics allows you to present the product or services in a lot more interactive and engaging way! In 2020, this mobile UI design trends will emulate the real world (in-store) shopping experience.
4. Virtual Reality
What's next in UI design trends in 2020? Clearly, the future of VR technology is bright. In the last years, we have seen a lot of progress and excitement in VR headsets — mostly in the gaming industry. One thing to keep in mind is that the gaming industry often brings innovation and new technologies into digital product design. After Oculus Quest in 2019, VR was expected to bring many opportunities for other industries. Sony and Microsoft will release their new generation consoles in the 2020 holiday season. These would bring a lot of opportunities and room for growth for VR technology.
5. Augmented Reality
In the last years, we have seen a lot of progress, excitement and improvement of AR. The world's leading tech companies are investing millions in AR development. Should you expect to expand and grow this fastest-growing industry in 2020? Even Apple has introduced its own AR toolkit called ARKIT 3 to help designers and developers build an impactful AR-based product.
There are endless opportunities to innovate and create brand new and exciting experiences in the AR space. UI design for AR will be one of the major design trends in 2020. So as designers, you should be prepared and eager to learn new tools, principles when creating AR experiences.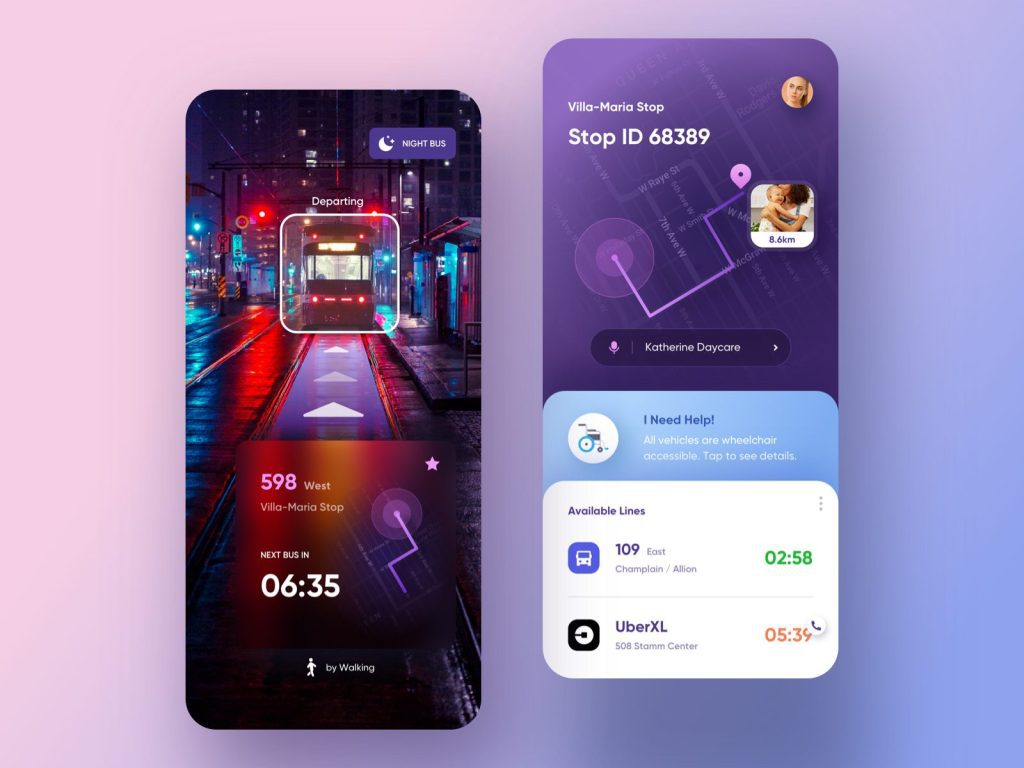 6. Neumorphism
Skeuomorphic design refers to the design elements that are created in a realistic style/way to match the real-life objects. The growth of VR/AR technology and the latest design trends shown on the most popular design platforms (Dribbble, Behance etc.) might make skeuomorphic design comeback in 2020. But this time with a touch of modern fashion and a slightly modified name: "New skeuomorphism" (also called Neumorphism).
As you've probably noticed: Neumorphism represents a very detailed and precise design style. Highlight, shadows, glow — these focus to create attention to detail is undeniably exciting and definitely on spot. Neumorphism has already inspired a lot of designers from all over the world and there is a big chance that Neumorphism will be the biggest user interface design trend in 2020.
7. Asymmetrical Layouts
In 2020, you have noticed huge grown of asymmetrical layouts in digital product design. Traditional / "template" based layouts are definitely going away. 2020 will not be any different as this trend will continue. Proper usage of asymmetrical layouts adds a lot of character, dynamic and personality to our designs, in which template is not an effective option.
There is a lot of room for creativity since the number of options and opportunities when creating asymmetrical layouts are endless. Although, creating successful asymmetrical layouts requires some practice and time — placing elements randomly on the grid wouldn't work. They should be used and implemented with caution. One more thing, always keeping in mind user's needs: Don't you want to get them lost when using our digital products?
8. Storytelling
Stories play a very important role in overall UX in digital product design. You might see them very often on the landing pages as an introduction to the brand, product or new service. Storytelling is all about transferring data to the users in the best possible informative and creative way. This could be achieved by copyrighting mixed with strong and balanced visual hierarchy (typography, illustrations, high-quality photos, bold colors, animations and interactive elements).
Storytelling really helps to create positive emotions and relationships between your brand and users. Storytelling might also make your brand more memorable and persuade users to feel like they are part of our products or services, thus they would like to associate with them. Having said that, storytelling is also great and efficient marketing tool that might greatly increase the sales of your products/services. Storytelling as a very successful tool will continue and expand in 2020.
Summing Up: What's the hottest UI Design Trends in 2020?
After going through all this, I can certainly say that the UX/ UI design trends in the forthcoming 2020 will be completely understandable, accessible and simple. Either way, user-friendly design and implement the UI design trends is the foundation stone for any successful app. However, the trends for UI design will keep on changing. At the same time, a smooth and flawless user experience mobile visitors will remain intact.
By providing multiple needs and services, AgileTech is here to ensure your mobile app development as a successful element of your omnichannel strategy. We have expert Project Managers along with excellent teams who have delivered the best products to customers in more than 10 countries, namely the U.S, U.K, Germany, France, and Singapore.
As a leading mobile development company in Vietnam, we have a huge experience in many fields including e-commerce, car-sharing platform, health care, Livestream and many more. Our dedicated software development team is ready for your custom requirements. You can contact us at [email protected] or via (+84) 936 281 059 for more information.